Neurodiversity in Startups: Harnessing Unique Minds for Innovation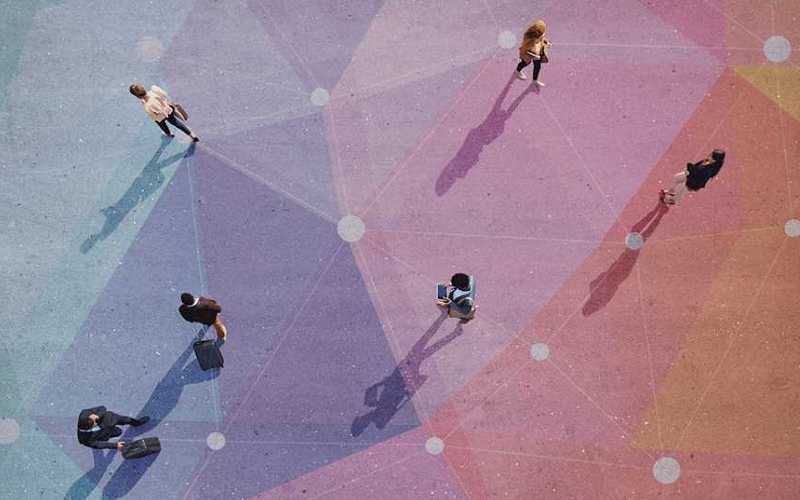 In an age where innovation and fresh perspectives are gold, the startup ecosystem is continually seeking new avenues for breakthroughs. One such avenue, often overlooked but immensely valuable, is neurodiversity. The tapestry of human cognition, with its varying patterns, intensities, and foci, holds a treasure trove of potential for businesses, particularly in the realm of startups. Neurodiverse individuals, those whose neurological variations set them apart, possess a unique combination of abilities and perspectives that can be channeled to drive creativity and innovation.
Introduction to Neurodiversity and Business
In the realm of startups, where innovation is the lifeline and diversity of thought is the bedrock of creativity, a new perspective is emerging: neurodiversity. As we stand on the brink of unparalleled technological and entrepreneurial advancements, understanding and embracing the myriad ways the human brain operates can be the keystone for startup success.
Brief Definition of Neurodiversity
Neurodiversity is a concept that recognizes and celebrates the various neurological configurations that people possess. Rather than viewing conditions like autism, ADHD, dyslexia, and others as disorders, the neurodiversity paradigm sees them as natural, valuable variations of the human brain. It's a shift from a medical perspective, which may focus on deficits and abnormalities, to a social perspective, focusing on acceptance and understanding.
The Role of Neurodiversity in Today's Business World
Today's business landscape is more dynamic and diverse than ever. As companies and industries evolve, so does the realization that diverse teams – not just in terms of race or gender but in cognitive thought – lead to richer solutions and strategies. Neurodiverse individuals, once sidelined, are now being recognized for their distinct advantages in various business domains, such as analytics, coding, problem-solving, and innovative design [1].
The Promise of Neurodiversity for Startups
For startups, which thrive on disruption and thinking outside the box, neurodiversity promises a fresh lens through which problems can be perceived and solutions can be crafted. Tapping into the potential of neurodiverse individuals can lead to richer brainstorming sessions, more inclusive product designs, and a broader understanding of customer needs.
The Neurodiverse Spectrum
Delving deeper into the concept of neurodiversity, it's essential to understand the range of neurological variations that come under this umbrella. Not only does this knowledge foster greater empathy and understanding, but it also equips us with the insights needed to harness the unique strengths of neurodiverse individuals.
Overview of Common Neurodivergent Conditions
Neurodivergent conditions, though unique in their characteristics, share a common thread—they offer alternative ways of perceiving, processing, and interacting with the world. Here are some of the most common conditions that fall within the spectrum:
Autism Spectrum Disorder (ASD)
Autism is a complex developmental condition that influences communication, behavior, and social interactions. People with ASD often have specialized areas of interest, a unique way of processing sensory information, and might approach problem-solving from unexpected angles.
Attention Deficit Hyperactivity Disorder (ADHD)
ADHD is marked by a pattern of inattention, hyperactivity, or impulsivity. While it might be seen as a challenge in traditional settings, individuals with ADHD often shine in environments that value spontaneity, rapid ideation, and quick decision-making.
Dyslexia
Dyslexia is a learning difference affecting reading, writing, and spelling. However, many dyslexic individuals possess heightened spatial intelligence, creative thinking, and problem-solving skills—valuable assets in many business realms.
Tourette Syndrome and Others
Tourette Syndrome is characterized by involuntary movements or vocalizations called tics. Beyond this, the neurodiverse spectrum includes other conditions such as dyspraxia, dyscalculia, and more. Each of these conditions provides its unique lens through which the world is perceived and interacted with.
The Myths and Stereotypes Surrounding Neurodiversity
Just as with many concepts that challenge traditional norms, neurodiversity comes with its share of myths and misconceptions. Some people erroneously believe that neurodivergent individuals can't succeed in professional settings or that they require constant supervision. Others might stereotype them, pigeonholing them into limited roles based on a narrow understanding of their capabilities [2].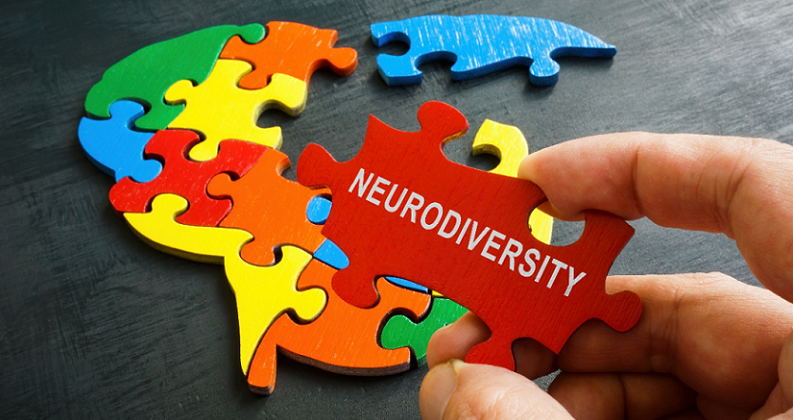 The Strengths of Neurodiverse Individuals
While society has historically focused on the challenges neurodiverse individuals face, it's high time we pivot our perspective. Neurodivergent minds, with their unique wiring, bring a spectrum of strengths to the table, many of which can be invaluable in the fast-paced, ever-evolving world of startups.
Unique Problem Solving
We often hear that "thinking outside the box" is essential for innovation. Well, for many neurodiverse individuals, there was never a box to begin with. Their unique cognitive patterns enable them to approach problems from angles that might be completely overlooked by others.
Enhanced Pattern Recognition
Many neurodiverse individuals, particularly those on the autism spectrum, excel in recognizing patterns. In businesses, this translates to identifying trends, predicting market movements, or understanding complex systems and algorithms in a more intuitive manner.
Intense Focus and Commitment to Tasks
The ability to hyperfocus is a trait shared by many with conditions like ADHD. This can mean hours of undivided attention to a task, leading to deep dives into subjects and meticulous attention to detail—qualities that can be critical in roles like research, coding, or design.
Authenticity and Honesty in Team Settings
Neurodiverse individuals often possess a refreshing honesty and authenticity, qualities that foster trust within teams. Their direct approach to communication can be a boon in situations where clarity and transparency are paramount.
Outside-the-Box Thinking and Creativity
It's no secret that many of history's greatest artists, inventors, and thinkers exhibited traits that today would place them on the neurodiverse spectrum. Their brains naturally veer off the well-trodden path, leading to innovative ideas and solutions.
The Role of Neurodiversity in Startups
Startups, with their dynamic nature, require a melting pot of skills, perspectives, and ideas to thrive. They're all about disruption, innovation, and challenging the status quo. Neurodiversity, with its plethora of unique viewpoints and cognitive strengths, plays a significant role in enhancing the vigor of startup teams.
Case Studies: Startups Successfully Harnessing Neurodiverse Talents
Across the globe, numerous startups have recognized the immense potential of neurodiverse talent and integrated it seamlessly into their operations. These stories not only inspire but also serve as a testament to the value of diverse minds.
A Tech Startup Tapping into Autism Spectrum Strengths
There's a tech startup that specifically hires individuals with autism for roles that involve data analysis and software testing. The reason? Their unparalleled attention to detail and ability to recognize patterns. This unique approach has resulted in superior product quality and set them apart in a competitive market.
Design Firms and Dyslexic Creativity
Several design startups have found that hiring individuals with dyslexia offers a fresh perspective in creative roles. With their spatial intelligence and out-of-the-box thinking, dyslexic individuals have contributed immensely to innovative product designs and branding strategies [3].
The ADHD Advantage in Marketing Startups
A particular marketing startup turned heads when they actively sought individuals with ADHD for strategy planning roles. The result? Rapid, dynamic campaigns that could pivot quickly in response to market changes, all thanks to the spontaneous and flexible thinking patterns of their neurodiverse team members.
Benefits of a Neurodiverse Team
Embracing neurodiversity isn't just about inclusion; it's a strategic advantage. Here's how startups stand to benefit:
Cognitive Diversity for Broader Solutions
A team that thinks differently approaches problems from multiple angles, leading to a broader range of solutions. This holistic approach can be crucial for startups aiming to disrupt traditional sectors.
Diverse Customer Base Representation
A neurodiverse team is more likely to understand and cater to a diverse customer base, making products and services more universally appealing and accessible.
Enhanced Adaptability in Fast-Changing Environments
The startup world is tumultuous, to say the least. Neurodiverse teams, with their varied cognitive processes, can adapt rapidly to changes, turning potential setbacks into opportunities for innovation.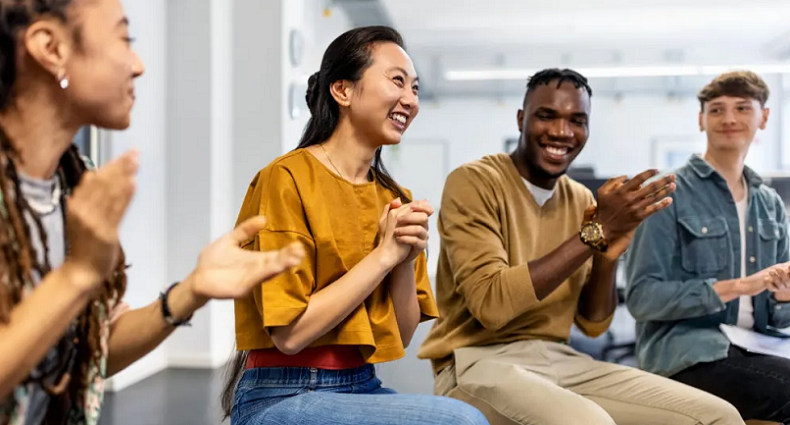 Creating an Inclusive Startup Environment
Recognizing the value of neurodiversity is only the starting point. For startups to truly harness the strengths of neurodiverse individuals, it's imperative to create an environment where they feel understood, valued, and empowered. An inclusive workspace isn't just about hiring practices; it's about fostering a culture of acceptance, understanding, and mutual growth.
Understanding and Addressing Unique Needs
Each neurodiverse condition comes with its set of needs, preferences, and challenges. By understanding these and taking proactive measures to address them, startups can ensure that every team member can work at their optimum.
Sensory-Friendly Workspaces for Autism Spectrum Individuals
People on the autism spectrum can be sensitive to sensory stimuli. Considerations like noise-cancelling headphones, quiet workspaces, or flexible lighting can make a huge difference in their comfort and productivity.
Flexibility in Work Hours for ADHD Individuals
Individuals with ADHD might have periods of hyper-focus followed by restlessness. Flexible work hours or frequent short breaks can allow them to work in sync with their natural rhythm.
Assistive Technology for Dyslexic Employees
Tools like text-to-speech software or spell-checkers can assist dyslexic employees in handling written content with ease.
Training and Awareness Programs
To foster a genuinely inclusive environment, it's vital that the entire team, not just the neurodiverse members, understand and value neurodiversity.
Sensitization Workshops
Regular workshops can help team members understand the spectrum of neurodivergent conditions and dismantle myths or biases they might hold.
Mentorship Programs
Pairing neurodiverse employees with mentors can facilitate smoother integration into the team, while also providing a platform for mutual learning and growth [4].
Feedback and Open Communication Channels
Creating channels for open communication ensures that neurodiverse employees can voice their needs or concerns, and feedback can be used constructively to improve inclusivity.
Celebrating Neurodiversity and Promoting Success Stories
An inclusive environment thrives on recognition and validation.
Recognize Achievements
Regularly highlight the contributions and achievements of neurodiverse team members, reinforcing their value to the startup's success.
By sharing stories of neurodiverse employees who've made significant contributions, startups can inspire both internal teams and the broader community.
Encourage Peer Learning
Foster a culture where team members share their strengths, skills, and insights, allowing for cross-pollination of ideas and mutual growth.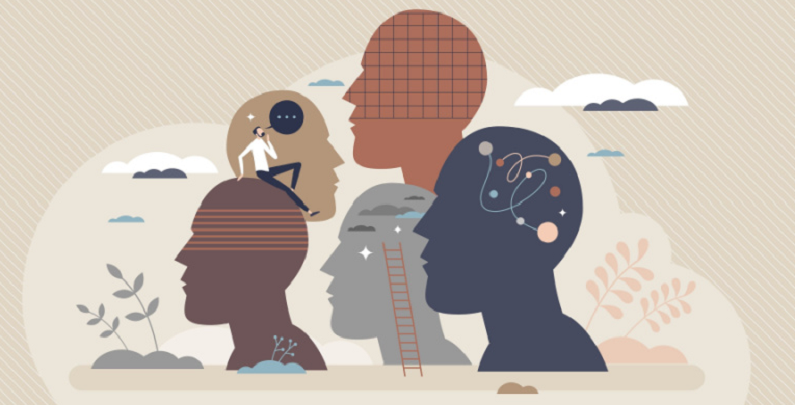 Challenges and Considerations of Neurodiversity In Business
While the advantages of embracing neurodiversity in startups are clear, it's also important to approach the subject with a balanced perspective. Integrating neurodiversity into a startup environment is not without its challenges. By recognizing and addressing these challenges head-on, startups can create a truly inclusive and harmonious workspace.
Potential Communication Gaps
Neurodiverse individuals often perceive and process information differently, which can lead to communication disparities in a team setting.
Varied Interpretation of Instructions
A set of instructions that seem clear to one person might be ambiguous to another. It's essential to ensure that communication is clear, explicit, and leaves little room for misinterpretation.
Some neurodiverse individuals might find social interactions challenging or might not pick up on certain non-verbal cues. Startups can address this by fostering a culture of open dialogue and feedback.
Setting Clear Expectations
Ensuring that roles, responsibilities, and expectations are clearly defined can prevent potential misunderstandings and conflicts.
Adapting to Different Learning Styles
Neurodiverse individuals often have unique learning and processing styles, which might not always align with conventional training methods.
Tailoring Training Programs
It's crucial to adapt training methods to cater to varied learning styles, whether it's visual, auditory, kinesthetic, or a combination.
Providing Additional Resources
Offering a range of resources, from written manuals to video demonstrations, ensures that every team member can access the information in a format they're comfortable with [5].
Continuous Feedback and Iteration
Regular feedback sessions can help identify gaps in training and offer opportunities for course correction.
Balancing Inclusivity with Business Goals
While inclusivity is a commendable goal, startups also have to ensure that business objectives are met efficiently.
Avoiding Tokenism
Hiring neurodiverse individuals should be driven by their potential and skills, not just a desire to appear inclusive. Token hires can lead to disillusionment and do more harm than good.
Regular Performance Evaluations
Just like any other employee, it's essential to evaluate the performance of neurodiverse team members regularly and provide constructive feedback.
Providing Necessary Support without Favoritism
While it's crucial to provide support to neurodiverse employees, it should be done without alienating other team members. A balance is key.
The Long-Term Impact of Embracing Neurodiversity
While the immediate benefits of integrating neurodiversity into startups are evident in terms of innovation and team dynamics, the long-term implications extend far beyond these boundaries. When startups champion neurodiversity, they're not just fostering a more inclusive workspace; they're effecting change that resonates through the industry and society at large.
Setting Industry Standards for Inclusion
The startup ecosystem is known for its trend-setting nature. By actively integrating neurodiversity into their fabric, startups can inspire a ripple effect throughout the business world.
Pioneering Best Practices
Startups that have successfully navigated the challenges of neurodiversity can share their experiences, strategies, and best practices, paving the way for other businesses to follow suit.
Influencing Larger Corporations
As startups grow into bigger entities or get acquired by larger corporations, they bring along their inclusive practices, prompting industry giants to reevaluate and update their own approaches to diversity.
Driving Regulatory Changes
As businesses adopt and champion neurodiversity, it can influence policymakers to reconsider regulations and introduce more inclusive guidelines for businesses across the board.
Enhancing Global Competitiveness
In an interconnected global economy, the diversity of thought is paramount to staying competitive.
Catering to a Diverse Client Base
By reflecting the vast spectrum of human cognition within the team, startups can better understand and cater to a diverse global clientele.
Adapting to Global Challenges
Neurodiverse teams, with their varied perspectives, can approach global challenges in innovative ways, ensuring that the startup remains agile and adaptable on the international stage.
Building Diverse Partnerships
Neurodiverse inclusivity can lead to collaborations and partnerships with organizations, communities, and industries that value diversity, opening up new avenues for growth.
Shaping a More Inclusive Society
Beyond the business landscape, the impact of championing neurodiversity resonates through society, fostering understanding, acceptance, and unity.
Normalizing Neurodiversity
By creating visibility and opportunities for neurodiverse individuals, startups can play a role in normalizing neurodivergent conditions and reducing societal stigma.
Educating the Broader Community
Engaging in community outreach, workshops, and awareness campaigns, startups can help educate the public about neurodiversity, dismantling myths and biases.
Empowering Neurodiverse Voices
By providing platforms and opportunities, startups empower neurodiverse individuals to share their stories, insights, and talents, enriching the cultural and social tapestry.
References

[1] 10 Companies Leading the Neurodiversity Movement in Tech
[2] Neurodiversity in technology: Are businesses missing out on key talent?
[3] Neurodiversity as a Competitive Advantage
[4] Neurodiversity and Entrepreneurship
[5] Leveraging the power of neurodiversity