Coping with Anxiety: Exploring Spiritual Strategies for Relief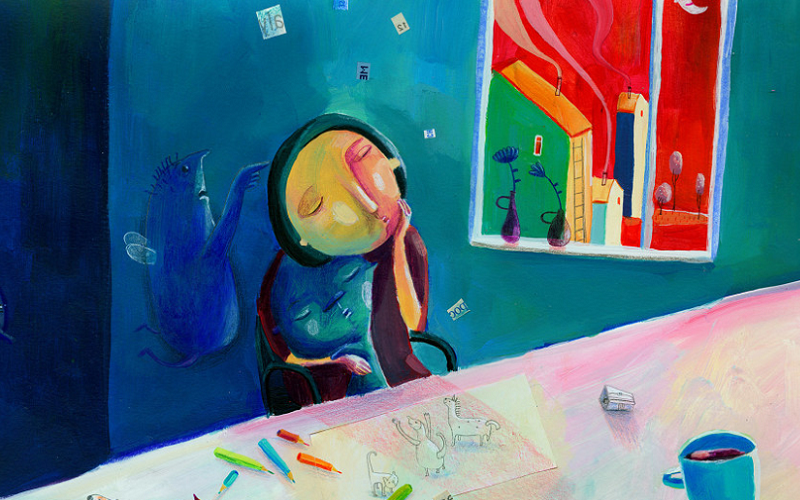 In an ever-accelerating world, anxiety has become an all-too-familiar emotion for many. While there are numerous clinical approaches to address this pervasive feeling, an age-old reservoir of wisdom lies in our spiritual traditions, often overlooked in modern times. This nexus between spirituality and mental well-being offers profound insights and practices that can assist individuals in navigating the turbulent waters of anxiety. Here we go deep into the spiritual tools and teachings that promise not just relief, but a transformative understanding of anxiety.
Understanding Anxiety
In the vast realm of human emotions, anxiety stands out as one that has been both a companion and challenger to many. Before getting into the spiritual strategies to address anxiety, it's essential to establish a clear understanding of what anxiety is, its causes, and the effects it can have on our holistic well-being.
Definition and Symptoms of Anxiety
Anxiety, at its core, is a natural response to stress. It's the body's way of alerting us to potential dangers or uncertainties. From an evolutionary perspective, anxiety functioned as a survival mechanism, preparing our ancestors to face threats. However, in today's modern world, this response can sometimes become overactive, leading to feelings that are out of proportion to the actual threat or sometimes, without any discernible cause. Common symptoms of anxiety include:
Persistent feelings of worry or fear
Rapid heartbeat or palpitations
Restlessness or feeling on edge
Difficulty concentrating
Irritability
Muscle tension
Sleep disturbances
While everyone feels anxious from time to time, chronic or severe anxiety might indicate an anxiety disorder, which requires professional attention.
Common Causes and Triggers
Anxiety can arise from a myriad of sources. Some common causes include:
Biological Factors: Genetics, chemical imbalances in the brain, and certain medical conditions can contribute to anxiety.
Environmental Factors: Stressful life situations, trauma, or a history of abuse can be significant contributors.
Personality: People with certain personality types are more prone to anxiety disorders.
Other Mental Health Disorders: Conditions like depression often co-exist with anxiety disorders.
In addition to these underlying causes, certain situations or stimuli can act as triggers, including financial stress, health concerns, relationship problems, workplace challenges, and significant life transitions [1].
Effects of Anxiety on Mind, Body, and Spirit
Anxiety, when persistent, can have a domino effect on an individual's overall well-being:
Mental Effects: Continuous anxiety can lead to difficulty in concentrating, memory problems, and sometimes even depression.
Physical Effects: Anxiety often manifests in the body, leading to headaches, digestive problems, fatigue, and other health issues.
Spiritual Effects: From a spiritual perspective, anxiety can create feelings of disconnection from one's inner self, leading to existential crises or feelings of purposelessness.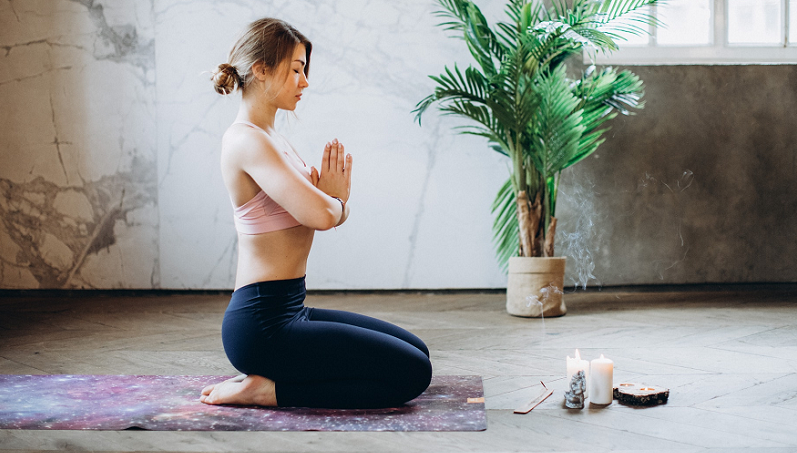 The Spiritual Perspective on Anxiety
As we tread the waters of understanding anxiety, we find that spirituality, across various traditions and teachings, provides a unique lens through which to perceive this emotion. Often, spiritual philosophies allow us to see anxiety not just as a challenge but also as a messenger, offering insights into our inner world and guiding us towards growth.
Historical and Cultural Understanding of Anxiety in Various Spiritual Traditions
Across time and cultures, anxiety has been interpreted through spiritual and philosophical lenses. Here's a glimpse into some interpretations.
Buddhism
This ancient philosophy identifies the root of anxiety as attachment. The more we cling to outcomes, possessions, or identities, the more we set ourselves up for suffering. By learning the art of detachment and living in the present moment, we can find relief from anxiety.
Christianity
Christians often turn to the Bible for solace, finding verses that encourage faith in God's plan and the surrender of worries. The scripture encourages believers to "cast all your anxieties on him because he cares for you" (1 Peter 5:7).
Hinduism
This tradition views life as a series of cycles, or 'samsara', where human suffering is inevitable. However, by recognizing the impermanent nature of life and finding connection with the eternal self, one can rise above such feelings.
Sufism
In this Islamic mystic tradition, anxiety is seen as a result of distancing oneself from the divine. By immersing oneself in the love of the divine and regular meditation, a Sufi seeks inner peace.
While interpretations may vary, the underlying thread is a call to look beyond the immediate emotion, seeking deeper understanding and connection.
Anxiety as a Signal or Messenger
Rather than viewing anxiety purely as an adversary, many spiritual teachings suggest that it can be a messenger. Anxiety often arises when there's a misalignment between our actions, beliefs, and our true self. It can signal unresolved issues, unfulfilled desires, or suppressed feelings [2].
By approaching anxiety with curiosity and openness, one can explore its roots and perhaps uncover profound insights about oneself. Instead of suppressing or avoiding the feeling, diving deep into it can open doors to healing and growth.
The Idea of Impermanence and Detachment
One of the profound teachings across various spiritual traditions is the concept of impermanence. Everything in life, including our emotions, is transient. This too shall pass.
By internalizing the idea of impermanence, we can learn to view anxiety as a fleeting emotion, not a permanent state of being. Coupled with the practice of detachment, where we observe our feelings without being consumed by them, we can find a centered space even amidst the chaos of anxiety.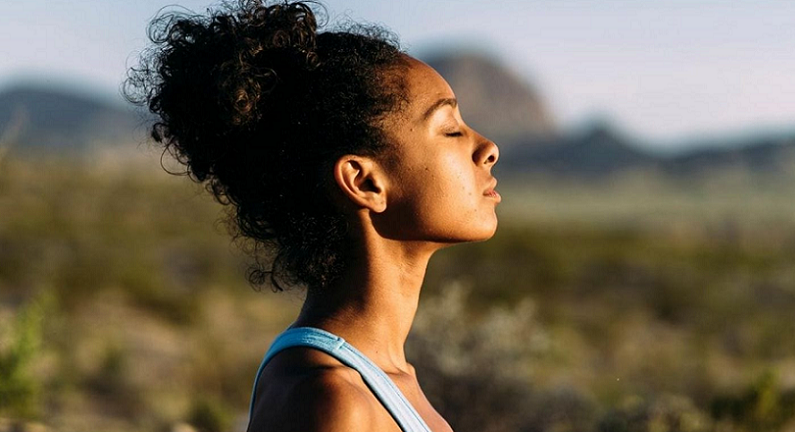 Spiritual Practices to Cope with Anxiety
Having explored the intricate dance between spirituality and anxiety, it becomes clear that spiritual practices can be powerful allies in our quest for tranquility. These age-old traditions, hailing from diverse cultures, hold within them the wisdom to not just mitigate the symptoms of anxiety but also to address its root causes, leading us to a space of inner peace and enlightenment.
Meditation and Mindfulness
Meditation, a cornerstone of many spiritual traditions, offers a pathway to quiet the restless mind and connect deeply with one's inner essence.
The Science Behind Meditation's Benefits
Modern research has begun to catch up with what sages have proclaimed for millennia. Studies have shown that regular meditation can reduce the body's stress response, thereby decreasing cortisol levels. Neurological changes, including an increase in the size of the brain areas associated with emotional regulation and a decrease in areas linked to stress, have also been observed in consistent meditators.
Guided Practice: A Simple Mindfulness Meditation for Anxiety
Find a quiet, comfortable space to sit or lie down.
Close your eyes and take a few deep breaths, feeling the rise and fall of your chest.
Gradually, let your breath return to its natural rhythm.
Bring your attention to your breath. Notice the sensation of air entering and leaving your nostrils or the movement of your chest and abdomen.
If your mind wanders (and it will), gently bring your focus back to your breath without judgment.
Continue for 10-15 minutes, or as long as you're comfortable.
Over time, this simple practice can become a sanctuary, a place to retreat and find stillness amid the storm of anxiety.
Prayer and Affirmations
Prayer, a dialogue with the Divine, offers solace to millions worldwide. But it's not just about seeking external help; it's also about affirming our inner strength and resilience [3].
The Healing Power of Prayer in Various Traditions
Across cultures, prayer has been a source of comfort. Whether it's the Lord's Prayer in Christianity, the recitation of Quranic verses in Islam, or the chanting of mantras in Hinduism, the act of vocalizing one's fears, gratitude, and hopes can have a therapeutic effect.
Crafting Personal Affirmations for Inner Peace
Affirmations are positive statements that can help combat negative thought patterns. Here are a few tailored for anxiety:
"I am in control of my breathing, and I can calm myself whenever I need."
"This moment of anxiety is temporary. I am resilient and strong."
"I trust the journey of my life and embrace each moment as it comes."
Reciting these affirmations, especially during moments of rising anxiety, can serve as grounding reminders.
Yoga and Physical Movements
Yoga, more than just physical postures, is a holistic practice aiming to unite mind, body, and spirit.
Connection Between the Body and Mind
Physical tension and mental anxiety often go hand in hand. By addressing bodily tension through stretches and postures, one can indirectly soothe the mind. Additionally, the breathwork in yoga, known as pranayama, directly impacts our nervous system, promoting relaxation [4].
Yoga Poses for Grounding and Calming the Mind
Child's Pose (Balasana): A restful pose, it allows one to turn inwards and feel grounded.
Tree Pose (Vrikshasana): A balancing pose that instills a sense of stability.
Legs-Up-The-Wall (Viparita Karani): A gentle inversion that can help relax the nervous system.
Connection with Nature
Nature, often seen as a reflection of the Divine, can be immensely therapeutic.
The Concept of Nature in Spirituality
Many spiritual traditions view nature as a manifestation of the divine. Walking amidst trees or sitting by a flowing river can serve as a meditation in itself, helping us connect with something greater and reminding us of the transient nature of our worries.
Nature Walks, Gardening, and Other Nature-based Activities
Immersing oneself in nature, whether through a serene walk in the woods, tending to a garden, or simply listening to the sounds of nature, can offer a respite from the chaotic churnings of an anxious mind.
Journaling and Self-reflection
Writing has a unique way of clarifying our thoughts, and when used as a spiritual practice, it can offer profound insights.
The Therapeutic Effects of Writing
Pouring out feelings onto paper can be cathartic. It allows one to process emotions, recognize patterns, and even converse with one's inner self.
Spiritual Journal Prompts for Dealing with Anxiety
"What message might my anxiety be trying to convey to me?"
"How can I transform this anxiety into a growth opportunity?"
"List three things you're grateful for today."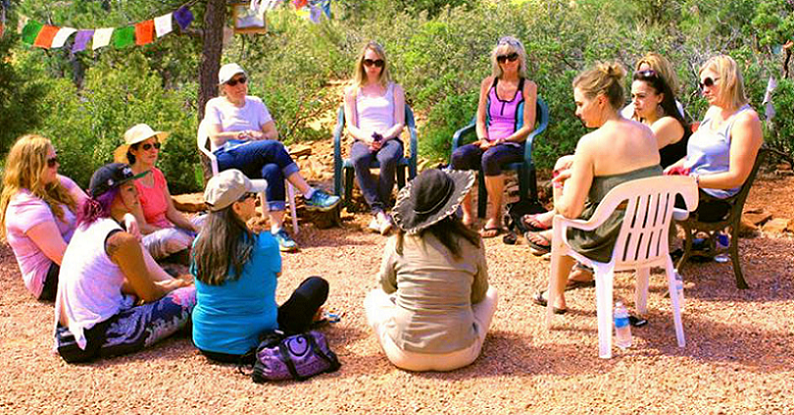 Embracing Community: The Role of Spiritual Gatherings
One of the profound truths embedded in most spiritual traditions is the recognition that humans are inherently social beings. Our strength, resilience, and healing do not solely come from within, but are also nurtured through our connections with others. Especially when grappling with internal storms like anxiety, the role of community and collective spiritual gatherings becomes paramount.
The Healing Power of Being Seen and Heard
It's a unique solace to be surrounded by individuals who not only understand what you're going through but also offer non-judgmental support. Spiritual communities, given their foundational principles of compassion, acceptance, and universal love, can be sanctuaries for those feeling isolated in their struggles [5].
Tales of Support and Transformation
Consider the story of Maya, who battled severe anxiety after a series of life-altering events. Feeling lost, she was introduced to a local meditation group. The collective energy of group meditations, combined with heartfelt conversations post-sessions, gradually became her healing ground. The group not only provided techniques to manage her anxiety but also gave her a sense of belonging, reaffirming her belief in the benevolence of humanity.
Group Meditations and Rituals
There's something profoundly uplifting about practicing spiritual rituals in unison. The collective intention magnifies the energy, leading to deeper experiences.
The Science Behind Group Meditative Practices
Research has shown that group meditations can lead to a harmonizing effect on the participants. The collective focus creates a resonance, where individual brainwaves can synchronize, leading to enhanced feelings of connectedness and peace.
Exploring Local Gatherings and Events
For those intrigued by the idea of group meditations, local community centers, spiritual organizations, and even online platforms nowadays offer a myriad of options. Whether it's a traditional prayer gathering, a guided group meditation, or a chanting circle, these collective experiences can be transformative.
Workshops, Retreats, and Seminars
Delving deeper into spiritual practices and philosophies, especially when undertaken in a group setting, can lead to profound shifts in perspective.
The Benefits of Immersive Spiritual Experiences
Taking time out for a retreat or workshop can offer a dual advantage. First, the immersion allows for a deep dive into the chosen practice without daily life distractions. Second, being surrounded by like-minded individuals on similar quests fosters a sense of community, amplifying the healing process.
Finding the Right Fit
For those interested, it's essential to research and find a retreat or workshop that aligns with one's spiritual inclinations and needs. Whether it's a silent meditation retreat, a yoga workshop in nature, or a seminar on spiritual philosophies, the key is to follow one's inner calling.
Volunteering and Serving the Community
In the midst of personal turmoil, sometimes the most healing act is to step outside of oneself and serve others.
The Spiritual Philosophy of Seva (Selfless Service)
Many traditions highlight the importance of 'seva' or selfless service. By giving without expecting, we align with the universal principle of abundance and interconnectedness. This act can provide a profound sense of purpose and belonging, acting as an antidote to feelings of anxiety and isolation.
Finding Opportunities to Contribute
Community centers, spiritual organizations, and even local NGOs often provide avenues for volunteering. Whether it's teaching meditation to beginners, organizing community events, or simply assisting in day-to-day activities, every act of service contributes to personal and collective healing.
References

[1] Using Spiritual Connections to Cope With Stress and Anxiety
[2] 4 Powerful Ways Spirituality Can Ease Anxiety and Depression
[3] Spirituality and Stress: Is There a Connection?
[4] Mayo Mindfulness: Connecting spirituality and stress relief
[5] The Impact of Spiritual Wellbeing and Coping Strategies