Understanding Macros: The Basics of a Balanced Diet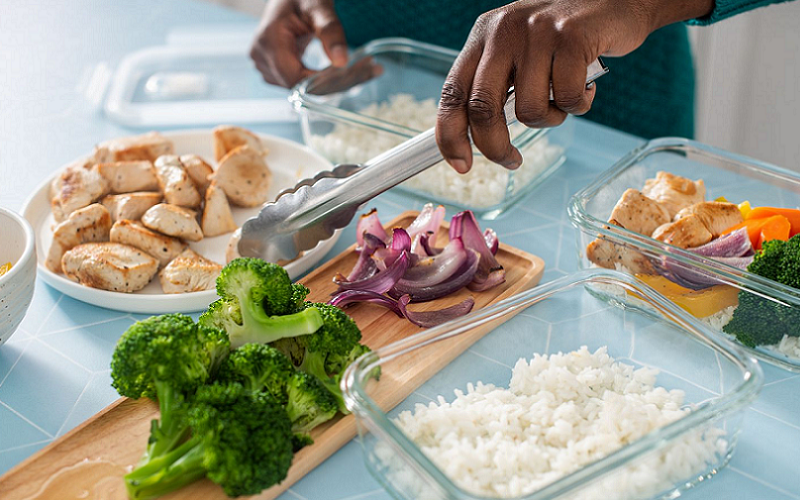 In today's world of trending diets and ever-evolving food philosophies, there's one fundamental concept that remains timeless: the importance of understanding macronutrients. Macronutrients, fondly termed "macros," are the backbone of our dietary intake. They play a pivotal role in fueling our bodies, supporting our cells, and promoting overall well-being. But what exactly are these macros, and how do they contribute to a balanced diet? Here we explore the world of carbohydrates, proteins, and fats, uncovering the secrets of each and empowering you with the knowledge to make informed dietary decisions.
What are Macronutrients?
Macronutrients, commonly referred to as "macros," are the nutrients our bodies require in larger amounts to function optimally. They provide the fuel we need to power through our days, support growth, and maintain overall health. But, what sets them apart from other nutrients?
Definition and Importance of Macronutrients
Macronutrients are nutrients that our bodies require in significant amounts to generate energy and sustain physiological processes. Unlike micronutrients (like vitamins and minerals), which are essential in smaller quantities, macronutrients form the core of our dietary intake. Their importance cannot be overstated. Each macronutrient has a unique set of roles and functions that contribute to our overall well-being. From supporting muscle growth to aiding brain function and providing energy for our daily tasks, these key nutrients are indispensable.
The Three Primary Macronutrients
Every meal or snack you consume consists of a combination of three primary macronutrients.
Carbohydrates
Often a topic of debate in dietary circles, carbohydrates are our body's primary source of energy. They're broken down into glucose (a type of sugar), which fuels everything from our brain function to our muscles during a workout.
Proteins
Dubbed the "building blocks of life," proteins are essential for tissue repair, muscle growth, and numerous biological processes. They're made up of amino acids, some of which our bodies can't produce on their own, making it vital to get them from our diet [1].
Fats
Far from being the villain they were once made out to be, fats are crucial for hormone production, protecting our organs, and aiding in the absorption of certain vitamins. They also serve as a secondary source of energy, especially in the absence of carbohydrates.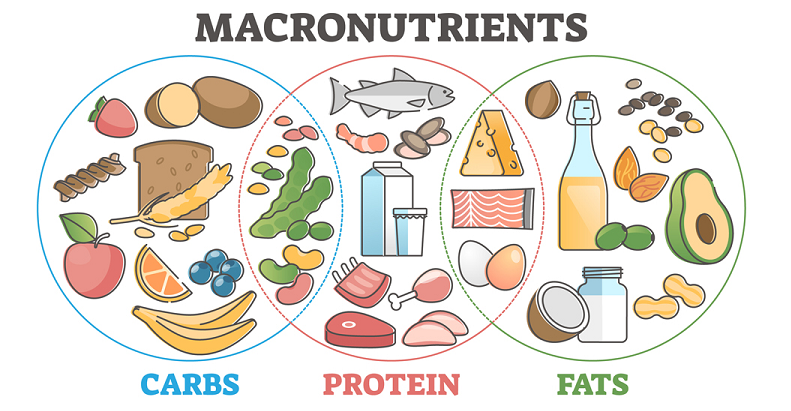 Carbohydrates: The Body's Primary Energy Source
When you think of energy, think carbohydrates. Often at the center of dietary debates, these macronutrients have gained both champions and critics. However, one undeniable fact remains: carbohydrates are our body's preferred source of energy. Every cell, especially those in our brain, relies on the energy derived from carbs to function optimally.
Types of Carbohydrates
Before delving into the specific roles of carbohydrates, it's crucial to differentiate between the types. Not all carbs are created equal, and understanding their differences is key to making informed dietary choices.
Simple Carbohydrates (Sugars)
These are the quick energy providers. They're rapidly digested and absorbed, leading to a swift rise in blood sugar. Found naturally in fruits, milk, and honey, they can also be added to foods in the form of refined sugars like in candies, syrups, and sodas.
Complex Carbohydrates (Starches and Fibers)
These are the sustained energy contributors. Comprising long chains of sugar molecules, they are broken down more slowly, providing a gradual release of energy. They are predominantly found in foods like grains, legumes, and certain vegetables. Additionally, fibers, a subcategory of complex carbs, are vital for digestive health but aren't directly used for energy [2].
Health Benefits and Functions
Carbohydrates aren't just about energy. They play several pivotal roles in maintaining our health:
Fueling the Brain: Glucose, derived from carbohydrates, is the primary energy source for the brain, supporting cognitive functions and mood regulation.
Supporting Physical Activity: Carbs provide the energy necessary for short bursts of high-intensity activities and endurance sports.
Promoting Digestive Health: Especially the fiber component, which aids in bowel regularity and supports a healthy gut microbiome.
Regulating Blood Sugar: A balanced carb intake helps maintain steady blood sugar levels, crucial for individuals with diabetes or insulin sensitivity.
Recommended Daily Intake
The ideal carbohydrate intake varies depending on factors like age, activity level, and specific health goals. However, general dietary guidelines suggest that carbohydrates should constitute about 45-65% of total daily caloric intake. It's essential to remember that the quality of carbohydrates matters. Opting for whole grains, fruits, vegetables, and minimizing refined sugars can pave the way for a healthier carbohydrate profile in your diet.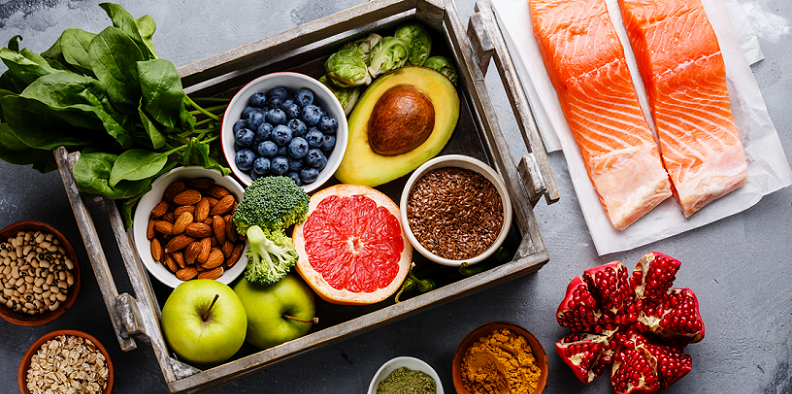 Proteins: The Building Blocks of Life
Mention protein, and many of us instantly envision muscular physiques or the vast array of protein shakes lining health store shelves. While proteins do play a crucial role in muscle development, their importance in the human body extends far beyond that. Proteins contribute to nearly every cellular function, underscoring their title as the "building blocks of life." Let's delve into the intricate world of proteins, exploring their sources, functions, and the optimal ways to include them in our diets.
Importance of Amino Acids
At the core of proteins are amino acids. These compounds are the fundamental building units of proteins. Imagine them as beads on a necklace, with each bead representing a different amino acid.
Essential Amino Acids: Our body can't produce these on its own, so it's vital to obtain them from our diet. Examples include lysine, tryptophan, and methionine.
Non-Essential Amino Acids: Our body can synthesize these, even if they aren't consumed in the diet. Glutamine and alanine are a couple of examples.
Collectively, amino acids support numerous body functions, from tissue repair to enzyme creation and neurotransmitter production.
Protein Sources: Animal vs. Plant-Based
Diversifying your protein intake is key, and fortunately, nature offers a plethora of sources.
Animal-Based Proteins
Meat: Chicken, beef, pork, and lamb are rich protein sources.
Fish and Seafood: Besides being protein-packed, many fish varieties offer beneficial omega-3 fatty acids.
Eggs: Often termed a 'complete protein,' eggs contain all the essential amino acids.
Dairy Products: Milk, cheese, and yogurt are not only protein-rich but also provide calcium and other nutrients.
Plant-Based Proteins
Legumes: Beans, lentils, and chickpeas are fantastic protein sources, with the added benefit of fiber.
Grains: Quinoa, a complete protein, and other grains like rice and barley contribute significantly to protein intake.
Nuts and Seeds: Almonds, chia seeds, and flaxseeds are just a few examples that pack a protein punch.
Vegetables: Some vegetables, like spinach and broccoli, contain modest protein amounts.
Health Benefits and Functions
The realm of proteins is vast, influencing a myriad of functions:
Tissue Repair and Growth: Proteins are integral to the repair of cells and the production of new ones, making them vital for muscle growth, skin regeneration, and hair health.
Hormone Production: Many hormones, like insulin and thyroid hormones, are proteins and play critical roles in regulating body processes.
Enzymes and Antibodies: Proteins facilitate biochemical reactions as enzymes and combat foreign invaders as antibodies, bolstering our immunity.
Transporting Molecules: Hemoglobin, a protein, transports oxygen through the bloodstream.
Recommended Daily Intake
Just like other macronutrients, protein needs vary based on individual factors. On average, adult women require about 46 grams, while men need 56 grams of protein daily. However, these numbers can shift depending on activity levels, age, health conditions, and specific goals like muscle building.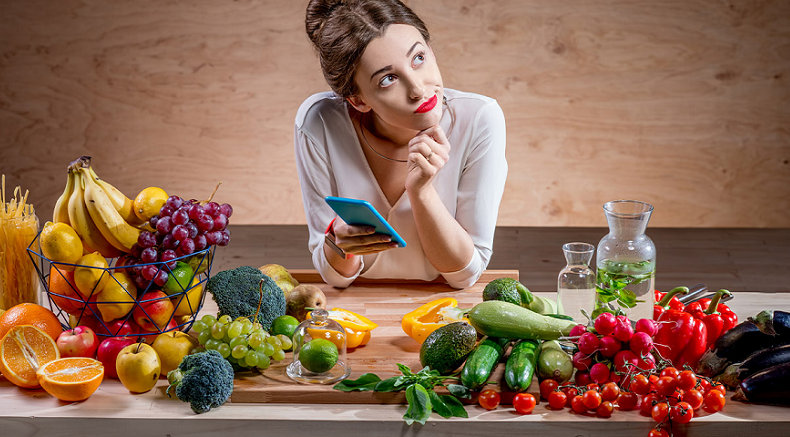 Fats: Beyond the Myths
The word 'fat' often conjures up negative images for many of us, largely due to the myriad of myths and misconceptions surrounding this vital nutrient. However, as we're about to discover, fats play indispensable roles in our body, and not all fats are created equal. It's time to journey beyond the myths, to demystify fats, and to understand their pivotal contribution to our health.
Understanding Good Fats vs. Bad Fats
The classification of fats can be a tad complex, but for the sake of simplicity and relevance, let's categorize them based on their health implications:
Saturated Fats
Primarily found in animal products like meat and dairy, and tropical oils like coconut oil, saturated fats have often been linked to heart disease. However, recent research suggests that not all saturated fats are harmful, and their impact might vary depending on the source. It's still a good idea to consume them in moderation [3].
Unsaturated Fats
These are often termed the "good fats." They can be broken down further into:
Monounsaturated Fats: Found in olives, avocados, and many nuts, they are known to be heart-healthy and can help reduce bad cholesterol levels.
Polyunsaturated Fats: Found in fatty fish, walnuts, and flaxseeds, they include omega-3 and omega-6 fatty acids, crucial for brain function and inflammation regulation.
Trans Fats
Often found in processed foods in the form of partially hydrogenated oils, trans fats have been linked to an increased risk of heart disease, stroke, and type 2 diabetes. Most health experts recommend avoiding them as much as possible.
The Role of Fats in Hormone Production and Nutrient Absorption
Beyond energy provision, fats have intricate roles in our physiological processes:
Hormone Balance: Fats aid in the production of essential hormones, including some sex and stress hormones.
Absorption of Vitamins: Fat-soluble vitamins like A, D, E, and K require fats for optimal absorption in the gut.
Protection and Insulation: Fats cushion our organs, acting as protective layers, and offer insulation, helping maintain body temperature.
Cellular Structure: Fats are integral components of cell membranes, influencing the cells' health and function.
Recommended Daily Intake
The dietary recommendations for fat intake have evolved over the years. Currently, it's advised that fats should make up 20-35% of your total daily caloric intake. But, as always, the type of fat matters more than the quantity. Prioritizing unsaturated fats, being judicious with saturated fats, and minimizing trans fats can lead to a heart-healthy, balanced diet [4].
The Role of Micronutrients
While our journey thus far has primarily revolved around the giants of nutrition—the macronutrients—it's essential to shine a spotlight on the unsung heroes of our diet: micronutrients. Though they're needed in smaller quantities, their impact on our health is colossal. Micronutrients, consisting of vitamins and minerals, are the intricate details that complete the big picture of holistic nutrition.
Understanding Vitamins
Vitamins are organic compounds crucial for our body to maintain health, growth, and vitality. They're divided based on their solubility:
Fat-Soluble Vitamins
These are stored in the body's fat tissues and liver. They include vitamins A, D, E, and K. Their absorption is enhanced by the presence of dietary fat, and since they can be stored, it's possible (though rare) to consume them in excessive amounts [5].
Water-Soluble Vitamins
These can't be stored in the body and need to be consumed regularly. The B vitamins (like B1, B2, B6, B12, niacin, and folic acid) and vitamin C fall under this category. They're flushed out of the body more easily, reducing the risk of toxicity.
Delving into Minerals
Minerals are inorganic elements that originate from soil and water and are absorbed by plants or consumed by animals. Essential minerals include:
Macrominerals: These are required in larger amounts and include calcium, phosphorus, magnesium, sodium, potassium, and sulfur.
Trace Minerals: These are needed in minute amounts, but they're still vital. Examples are iron, zinc, iodine, fluoride, and selenium.
Significance of Micronutrients in Health
Micronutrients, though minuscule in quantity, have a profound impact:
Disease Prevention: Adequate vitamin and mineral intake can reduce the risk of certain diseases, including cardiovascular conditions and certain types of cancer.
Bone Health: Minerals like calcium and phosphorus are foundational for bone strength.
Immunity: Vitamins like C and E, along with minerals like zinc, fortify our immune system.
Wound Healing: Vitamin K aids in blood clotting, while vitamin C and zinc play roles in wound healing.
Energy Production: B vitamins are particularly crucial for metabolizing food into energy.
Growth and Development: Vitamins and minerals are essential for the growth of tissues, cells, and bones, especially in children, adolescents, and pregnant women.
Achieving a Balanced Micronutrient Intake
A varied diet, rich in colorful fruits, vegetables, whole grains, lean proteins, and dairy or fortified alternatives, usually provides a spectrum of essential micronutrients. However, certain life stages, health conditions, or restrictive diets might necessitate supplementation. Always consult with a healthcare professional before starting any supplements.
References

[1] Know Your Macros—Why Macronutrients Are Key to Healthy Eating
[2] What is a macro diet, and how does it work?
[3] How to Start Counting Macros for Weight Loss, According to Dietitians
[4] What Are Macros? We Explain How to Balance Your Nutrient Intake
[5] The American Heart Association Diet and Lifestyle Recommendations