The Health Benefits of Ginger: A Natural Remedy Staple
For centuries, cultures around the world have revered ginger not just for its distinctive zest and flavor, but also for its remarkable health-promoting properties. Tucked within its knotted and rustic exterior lies a treasure trove of benefits that can uplift us both internally and externally. Often labeled as a 'superfood', ginger has been an integral part of traditional medicine in regions spanning from Asia to Africa.
Understanding Ginger: What Is It?
Ginger, with its aromatic scent and spicy taste, is a common ingredient found in many kitchens. But before we get into the myriad of health benefits that it offers, let's take a moment to understand the basics of what ginger really is and its origin.
Description of the Ginger Plant
Ginger is a flowering plant that belongs to the Zingiberaceae family, and it's the underground rhizome, or stem, that is most familiar to us. The rhizome is characterized by its knobbly appearance, with a skin that ranges from light brown to a deeper shade, depending on its variety. When you break open this exterior, you're greeted with a fragrant, yellowish flesh that packs both flavor and health benefits.
How and Where It's Grown
Ginger is a tropical plant that thrives in warm and humid conditions. Its cultivation roots trace back to ancient times in Southeast Asia. From there, the knowledge of ginger and its benefits spread, leading to its cultivation in other parts of the world including Africa, the Caribbean, and parts of the Middle East. Today, India stands as the largest producer of ginger, followed by countries like Nigeria, China, and Indonesia.
The ginger plant, requiring around 8-10 months to mature, is grown from rhizomes planted in the soil. As the plant matures, green shoots and leaves emerge above ground, while below, the rhizome grows, absorbing nutrients and energy from the plant.
Common Forms: Fresh, Dried, Powdered, and Oil
Fresh ginger is a staple in many dishes, from stir-fries to smoothies. When dried and ground, it becomes the ginger powder, often used in baking and spice mixes. Additionally, the dried ginger can be crystallized with sugar, resulting in a sweet and spicy treat. Ginger oil, on the other hand, is extracted from the rhizome and is a concentrated essence often used for its aromatic properties in both culinary and therapeutic applications [1].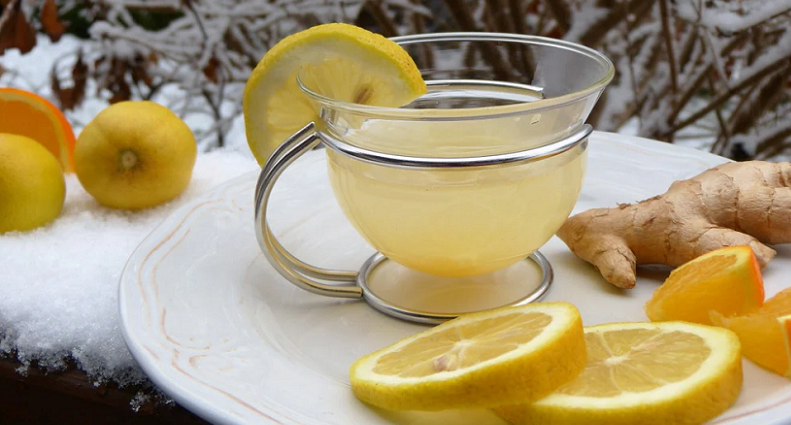 Ginger Key Components and Nutritional Value
Every bite of ginger is a cocktail of beneficial nutrients and compounds that are the foundation of its acclaimed health benefits. To truly appreciate the potency of ginger, it's essential to delve deep into its core components and their respective nutritional implications.
Active Compounds: Gingerol and Its Benefits
At the heart of ginger's spicy punch and therapeutic qualities is a compound known as gingerol. Gingerol is a bioactive substance that contributes to ginger's strong anti-inflammatory and antioxidant effects. Beyond just adding a zest to our meals, it's this compound that has been the subject of numerous scientific studies for its potential in combating various ailments.
When ginger is cooked or processed, gingerol transforms into another compound, zingerone, which is less spicy and has its unique properties. Additionally, dried ginger contains another compound called shogaol, which is known for its potent anti-inflammatory properties and is believed to be even more powerful than gingerol.
Nutrient Profile: Vitamins, Minerals, and Antioxidants
Diving into the nutritional spectrum of ginger, we find a variety of essential vitamins and minerals. Here's a snapshot of what a small piece of ginger brings to our table [2].
Vitamins
Ginger contains Vitamin B6, which is pivotal for brain health and function. It also contributes to the production of neurotransmitters like serotonin, which regulates mood.
Minerals
A rich source of minerals, ginger contains manganese, essential for bone health and wound healing. It also boasts of magnesium, phosphorus, zinc, and folate, each playing a critical role in various bodily processes.
Antioxidants
Apart from gingerol, ginger houses a myriad of antioxidants. These molecules combat oxidative stress in our bodies, which results from an imbalance of free radicals. By neutralizing these free radicals, antioxidants from ginger help protect our cells from damage and delay the onset of chronic diseases.
Additionally, ginger provides a moderate amount of dietary fiber, which aids digestion and promotes gut health. It's also worth noting that ginger is low in calories, making it an excellent addition to any health-conscious diet.
Top Health Benefits of Ginger
While ginger's aromatic scent and unique flavor make it a sought-after ingredient in the culinary world, its real magic lies in the extensive health benefits it offers. From ancient remedies to modern science-backed solutions, ginger has consistently emerged as a natural elixir for various ailments.
Digestive Health
One of the most celebrated advantages of ginger lies in its ability to aid the digestive system.
Alleviating Nausea and Morning Sickness
Ginger's prowess in combating nausea is well-documented. Whether it's motion sickness, post-surgery nausea, or the queasiness accompanying chemotherapy, ginger can offer relief. For expectant mothers, ginger might be a boon, with studies indicating its effectiveness in reducing pregnancy-related morning sickness. However, it's always advisable for pregnant women to consult with their healthcare provider before consuming ginger or any supplement.
Soothing Digestive Upsets
Beyond nausea, ginger has been known to alleviate indigestion and bloating. Its compounds expedite the emptying of the stomach, reducing the potential for discomfort. Additionally, ginger can help in mitigating gas and improving overall gut motility, ensuring smoother digestive processes [3].
Anti-Inflammatory and Pain Reduction
Inflammation is a natural response of the body, but chronic inflammation can lead to various health issues.
Osteoarthritis Relief
Ginger's anti-inflammatory properties have shown promise in treating osteoarthritis, a degenerative joint condition. Studies have found that ginger extract can reduce pain and may even decrease the need for pain medication in some individuals.
Menstrual Pain Reduction
For many women, menstrual pain can be debilitating. Ginger, when consumed at the onset of the menstrual cycle, has been found to be as effective as some over-the-counter pain relievers in reducing this discomfort.
Immune System Booster
A strong immune system is our first line of defense against illnesses.
Fighting Infections
The bioactive compounds in ginger, especially gingerol, are known to curb the growth of various harmful bacteria and viruses. This makes ginger a natural ally in combating infections, particularly in the oral area, such as gingivitis and periodontitis.
Cold and Flu Prevention and Relief
For ages, ginger has been a popular remedy for colds and the flu. Consuming ginger tea or ginger-infused warm water can help in not only preventing these common ailments but also in alleviating symptoms and speeding up recovery.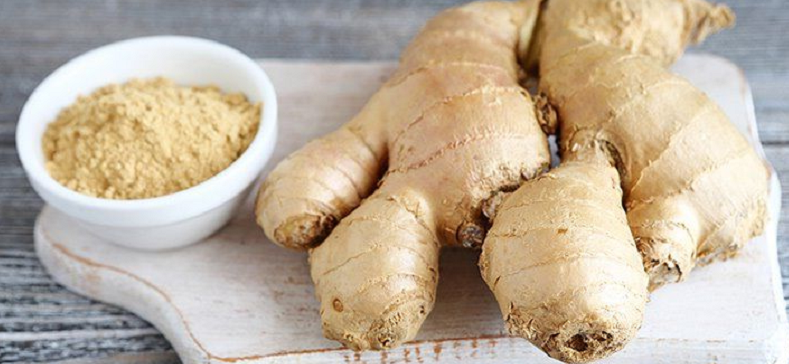 Heart Health and Cholesterol Levels
A healthy heart is pivotal for overall well-being.
Lowering LDL Cholesterol
Elevated levels of LDL (bad cholesterol) are a known risk factor for heart diseases. Ginger's ability to significantly reduce LDL cholesterol levels has been showcased in several studies, thus suggesting its potential role in heart health.
Blood Pressure Regulation
Compounds in ginger can aid in relaxing blood vessels, leading to a potential reduction in blood pressure. This vasodilating effect can be beneficial in managing hypertension and promoting overall cardiovascular health.
Cancer Prevention Potential
While research is ongoing, preliminary studies hint at ginger's potential in the realm of cancer prevention.
Studies and Findings
Several studies have focused on ginger's effect on cancer cells, particularly ovarian and breast cancer cells. The compounds in ginger, especially gingerol, have shown promise in inhibiting the growth and proliferation of these cancer cells [4].
Limitations and Further Research
While these findings are promising, it's crucial to note that more extensive human trials are required. Ginger shouldn't be seen as a replacement for conventional cancer treatments, but rather as a potential supplementary aid.
Incorporating Ginger into Your Diet
Understanding the myriad health benefits of ginger naturally leads to the next question: how can one seamlessly incorporate this golden root into daily meals? Fortunately, ginger's versatility makes it a delightful addition to a vast array of dishes, spanning from savory to sweet, and even beverages.
Simple and Delicious Ginger Recipes
Delving into the world of culinary delights, ginger has always held a prestigious spot, enhancing flavors and textures in diverse cuisines.
Ginger Tea
A comforting brew especially for cold days, ginger tea is not just flavorful but also packed with health benefits. Slice a few pieces of fresh ginger and simmer them in boiling water for about 10 minutes. You can enhance the flavor with a touch of honey or lemon.
Ginger Stir-fry
For a quick and savory dish, stir fry your choice of veggies like bell peppers, broccoli, and carrots with thinly sliced ginger. Add some soy sauce, garlic, and a touch of sesame oil for a delightful Asian-inspired meal.
Ginger Smoothie
Boost your morning routine with a zesty ginger smoothie. Blend together spinach, a slice of ginger, a banana, yogurt, and a touch of honey. This green concoction is both refreshing and invigorating.
Ginger Cookies
For those with a sweet tooth, ginger cookies offer a delightful crunch with a spicy kick. Incorporate ground ginger into your basic cookie dough, and you have a treat that pairs perfectly with a cup of tea.
Tips for Selecting and Storing Fresh Ginger
To fully harness ginger's potential, it's crucial to choose the right root and store it effectively [5].
Selecting
When buying fresh ginger, look for smooth skin (avoid wrinkled or shriveled pieces) with a firm texture. A fresh ginger root should snap cleanly when broken.
Storing
Fresh ginger can be stored in the refrigerator for up to three weeks if left unpeeled. For longer storage, consider freezing it. You can grate or slice the ginger directly from the freezer when needed. If you opt for ground or powdered ginger, store it in a cool, dark place in an airtight container.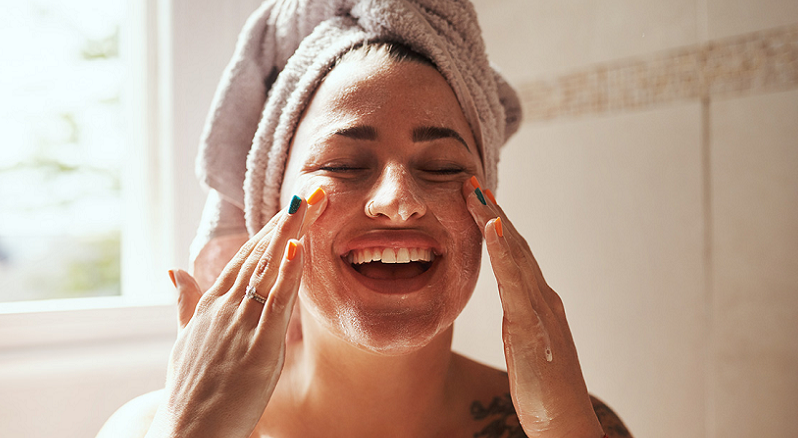 Topical and External Uses of Ginger
Ginger's prominence isn't limited to our plates or teacups. Beyond its dietary contributions, the benefits of ginger seep into the realms of skincare, haircare, and holistic well-being when used topically.
Skin Care Benefits
Ginger's antioxidant-rich profile makes it a treasured ally for the skin.
Anti-aging Properties
The antioxidants present in ginger combat free radicals, which contribute to skin aging. A ginger face mask or serum can potentially reduce the appearance of fine lines and provide a youthful glow.
Reducing Hyperpigmentation
Ginger's toning properties can help in fading scars and evening out skin tone. Applying ginger-infused products or a diluted ginger paste can gradually reduce hyperpigmentation over time.
Treatment of Acne and Blemishes
Thanks to its anti-inflammatory properties, ginger can be a natural remedy for acne. Its antibacterial qualities also ensure a reduction in skin breakouts, promoting clearer skin.
Hair Care Benefits
The goodness of ginger extends to nurturing our tresses.
Promoting Hair Growth
Ginger, when applied to the scalp, can stimulate blood circulation, promoting hair growth. A ginger oil massage can invigorate hair follicles, potentially reducing hair thinning and promoting denser growth.
Dandruff Control
The antiseptic properties of ginger make it an effective solution for dandruff. Incorporating ginger into hair masks or oils can provide relief from the itchy, flaky scalp associated with dandruff.
Joint and Muscle Relief
Ginger's warming sensation and anti-inflammatory properties offer solace to sore muscles and joints.
Ginger Compress
A hot compress using ginger-infused water can be applied to aching joints or muscles. This not only provides relief from pain but also reduces inflammation, aiding in quicker recovery.
Massage Oil
Combining ginger essential oil with a carrier oil, like almond or coconut, can create a therapeutic massage blend. Regular massages with this concoction can alleviate joint stiffness and muscle soreness.
Safety and Precautions for Topical Use
While ginger has numerous benefits, it's essential to approach its external use with caution.
Patch Test
Before applying any ginger-based product or raw ginger on the skin, it's advisable to do a patch test. Apply a small amount on your inner wrist or elbow and wait for 24 hours to check for any allergic reactions.
Dilution
Never apply concentrated ginger oil directly to the skin; always dilute it with a carrier oil. This ensures that the application is gentle and prevents any potential skin irritations.
The Bigger Picture: Ginger as Part of a Holistic Health Approach
Embracing ginger's myriad benefits paints a segment of the vast canvas of holistic health. As we journey through well-being, it's essential to understand that while individual elements like ginger are potent, their true potential is harnessed when integrated into a broader, holistic approach to health and wellness.
Understanding Holistic Health
At its core, holistic health emphasizes complete well-being, encompassing physical, emotional, mental, and spiritual dimensions. It's not just about treating symptoms but understanding and addressing root causes, ensuring balance, and promoting natural harmony.
Synergy of Natural Ingredients
Ginger, though powerful on its own, often finds itself in the esteemed company of other natural ingredients in traditional remedies.
Turmeric, honey, lemon, and garlic are some ingredients that often accompany ginger. Each of these ingredients brings its own set of benefits. For instance, while ginger tackles inflammation, turmeric, with its curcumin content, amplifies this effect. Honey, on the other hand, not only sweetens the palate but also offers antibacterial properties.
Integrating Mind, Body, and Spirit
While ginger addresses several physical ailments, its role in the realm of the mind and spirit is equally profound.
Stress Reduction and Mental Clarity
Ginger tea, often prescribed as a relaxant, can soothe nerves, reduce anxiety, and promote mental clarity. Its warm, spicy aroma when used in aromatherapy can also invigorate the mind and elevate mood.
Spiritual Practices
In several cultures, ginger finds its place in spiritual practices. It's believed to enhance energy flow, clear negative energies, and boost vitality.
Lifestyle Choices and Habits
While integrating ginger into our diets is beneficial, it's equally crucial to pair it with positive lifestyle choices.
Balanced Diet
Ginger, as potent as it is, should be a part of a balanced diet replete with fruits, vegetables, whole grains, and lean proteins. This ensures that the body receives a spectrum of nutrients for optimal function.
Regular Exercise
The benefits of ginger in reducing muscle soreness and joint pain can be enhanced when paired with a regular exercise routine. The anti-inflammatory properties of ginger can aid in recovery after workouts, making it a natural post-workout remedy.
Mindful Practices
Meditation, yoga, and other mindful practices complement the benefits of ginger, especially in reducing stress, promoting gut health, and ensuring mental well-being.
References

[1] Ginger Benefits
[2] Ginger: Uses, benefits, and nutrition
[3] Why Ginger Offers Health Benefits
[4] The Amazing and Mighty Ginger
[5] Why you should consider adding ginger to your diet