Natural Ways to Boost Immunity: Foods, Herbs, and Lifestyle Changes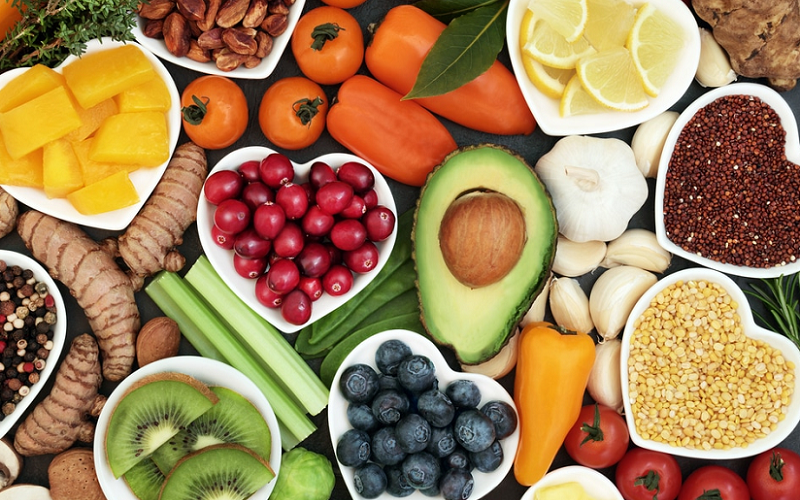 In an age where health and well-being are at the forefront of our minds, nurturing a robust immune system has never been more crucial. While modern medicine offers numerous ways to protect and heal our bodies, nature has always held its own treasure trove of remedies. From the foods we consume to the daily habits we cultivate, simple and natural adjustments can make a profound difference in strengthening our body's defense mechanisms.
Understanding the Immune System
In the orchestra of our body's functions, the immune system plays the role of a vigilant conductor, ensuring each section works in harmony while warding off potential threats. Before getting into natural ways to bolster it, it's essential to understand its fundamental workings and the factors that influence its efficacy.
Basic Breakdown of How the Immune System Works
The immune system is a complex network of cells, tissues, and organs that collaboratively defend the body against harmful invaders. When pathogens such as viruses, bacteria, or fungi enter the body, the immune system springs into action. It has two main components:
Innate Immunity
This is our first line of defense. It consists of barriers like our skin and mucous membranes, as well as certain cells that recognize and destroy invaders swiftly.
Adaptive Immunity
This is more specialized and comes into play if a pathogen bypasses the innate system. It remembers specific invaders and launches targeted attacks, often utilizing antibodies [1].
Factors That Can Weaken or Strengthen the Immune System
Various factors, both internal and external, can influence the vigor of our immune responses. Here are some of the primary influencers:
Age: As we grow older, our immune responses can become less efficient, making seniors more susceptible to infections.
Diet: A diet lacking essential nutrients can impair the production and activity of immune cells and antibodies.
Chronic Stress: Extended periods of stress release cortisol, which in excess can suppress immune function.
Underlying Medical Conditions: Disorders like diabetes, HIV, or conditions that require medications such as steroids, can compromise immune responses.
Lifestyle Choices: Smoking, excessive alcohol intake, and a sedentary lifestyle can also negatively impact the immune system.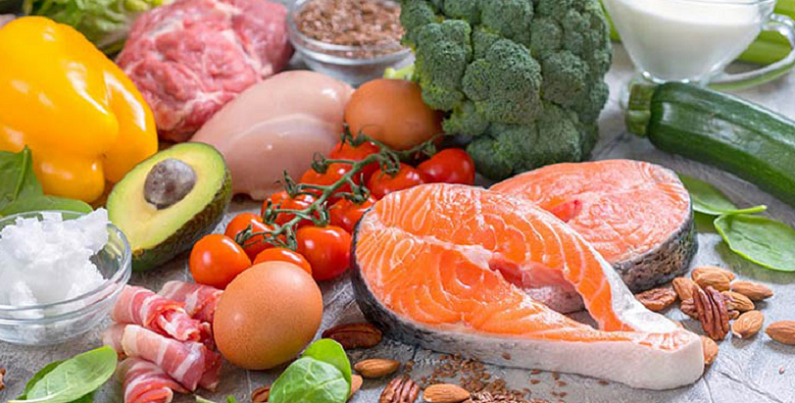 Foods That Naturally Boost Immunity
The saying "You are what you eat" holds profound wisdom, especially when it comes to the health of our immune system. Many of the foods we consume daily can serve as powerful allies, fortifying our body's defenses against potential threats.
Fruits and Vegetables
Fresh, colorful, and bursting with nutrients—fruits and vegetables are cornerstones of a robust immune system. Their abundance of vitamins and antioxidants helps safeguard our cells from damage and aids in optimal immune function [2].
Citrus Fruits
Packed with vitamin C, citrus fruits like oranges, lemons, and grapefruits assist in increasing the production of white blood cells—vital for combating infections.
Bell Peppers
Surprisingly, red bell peppers contain even more vitamin C than most citrus fruits. They're also rich in beta-carotene, which boosts eye and skin health.
Broccoli
A powerhouse of vitamins A, C, and E, broccoli also has a good dose of fiber. To maximize its nutrient content, it's best consumed lightly cooked or raw.
Probiotic-Rich Foods
The gut is often dubbed as the body's "second brain," and for a good reason. A significant portion of our immune cells resides there. Maintaining a healthy gut flora through probiotic-rich foods can be instrumental in supporting immune health.
Yogurt
Look for yogurts that state "live and active cultures" on the label. Apart from supporting gut health, yogurt is also a source of vitamin D, which further bolsters immunity.
Fermented Foods
Kimchi, sauerkraut, and miso introduce beneficial bacteria to the gut. These foods also come with an array of enzymes, vitamins, and high-quality proteins.
Kefir
This fermented milk drink contains a mix of bacteria and yeasts that promote a healthy gut. Its tangy taste makes it a delightful addition to smoothies.
Seeds and Nuts
Beyond being delicious snacks, seeds and nuts are reservoirs of minerals and vitamins that can positively influence immune responses [3].
Sunflower Seeds
Loaded with vitamins B-6 and E, sunflower seeds also provide ample magnesium and phosphorus. Vitamin E, in particular, is key to maintaining healthy immune function.
Almonds
Just a half-cup serving of almonds offers nearly 100% of the recommended daily amount of vitamin E. They're also filled with manganese, magnesium, and fiber.
Walnuts
These crunchy delights are rich in antioxidants and healthy fats, aiding in reducing inflammation and supporting optimal immune function.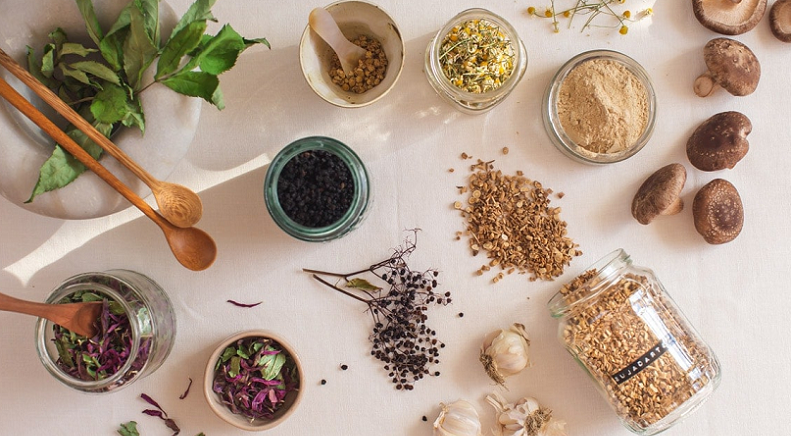 Herbs That Fortify the Immune System
For centuries, humans have turned to the wisdom of nature to heal, soothe, and invigorate. Among nature's most potent gifts are herbs, revered for their medicinal properties and their ability to bolster our body's defenses. Incorporating these botanical wonders into our daily routine can weave a protective web around us, enhancing our immunity and our overall well-being.
Echinacea
Echinacea, often found in the gardens of natural remedy enthusiasts, is more than just a pretty purple coneflower. Its historical use as a native American medicinal plant is now backed by contemporary research.
Historical Use and Modern Studies
Native Americans have utilized echinacea for hundreds of years to treat various ailments. Modern scientific studies suggest that it can reduce the risk of catching a common cold by enhancing the immune response.
Best Ways to Consume
Echinacea can be taken as a tea, tincture, or in capsule form. However, it's essential to follow recommended dosages and consult with a healthcare professional before starting any new herbal regimen.
Elderberry
The dark, glossy elderberries have garnered significant attention in recent years, and rightfully so. Their deep hue is a testament to their rich antioxidant content.
Benefits and Evidence-Based Research
Elderberries are believed to possess antiviral properties, potentially reducing the severity and duration of illnesses like the flu. Some studies have also pointed to their ability to boost the production of immune cytokines.
Preparations
Syrups, teas, and supplements made from elderberries are widely available. While they can be a beneficial addition to one's immunity-boosting toolkit, it's crucial to ensure they are cooked or processed, as raw elderberries can be toxic [4].
Turmeric and Ginger
Both turmeric and ginger come from rhizome families, and their potency in promoting health is nearly legendary.
Anti-Inflammatory Properties
The active ingredient in turmeric, curcumin, has powerful anti-inflammatory effects. Inflammation, when chronic, can wear down the immune system. Ginger, too, combats inflammation and can help reduce symptoms of nausea.
Incorporating Them into Daily Meals
Turmeric can be sprinkled into curries, soups, or even smoothies. Golden milk, a blend of milk, turmeric, and black pepper, is a soothing drink with potential immune-boosting benefits. Ginger can be grated into teas, juices, or stir-fries. Its warm, zesty flavor complements a variety of dishes.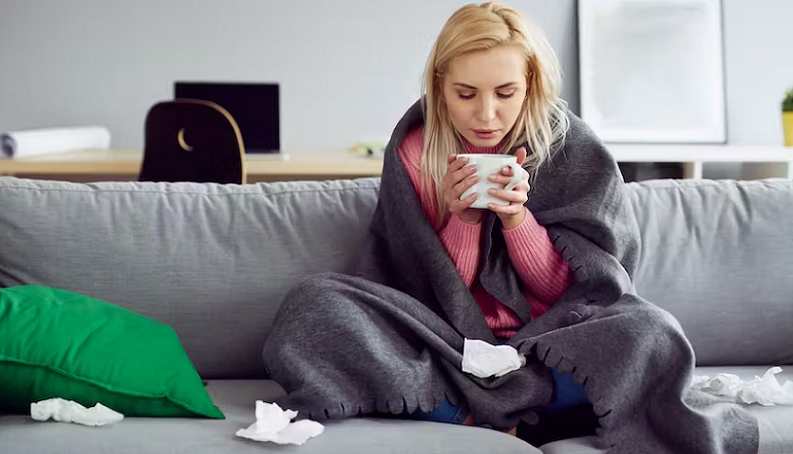 Lifestyle Changes for Robust Immunity
The journey to optimal immunity doesn't stop at the plate. The choices we make daily, the habits we cultivate, and the environments we immerse ourselves in play a pivotal role in shaping our immune health. A holistic approach that intertwines dietary decisions with conscious lifestyle practices offers the most comprehensive shield against illnesses.
Adequate Sleep
Restful sleep is not a luxury but a necessity. Our bodies rejuvenate and repair during these hours of repose, strengthening our internal defenses.
The Connection Between Sleep and Immune Function
During sleep, the body produces and releases cytokines, which are essential in fighting infections, inflammation, and stress. Chronic sleep deprivation can reduce the production of these protective cytokines and other immune cells.
Tips for a Better Night's Sleep
Establish a Routine: Going to bed and waking up at the same time every day helps regulate the body's internal clock.
Create a Restful Environment: A dark, cool, and quiet room can enhance sleep quality. Consider using earplugs, an eye mask, or a white noise machine if necessary.
Limit Screen Time: The blue light emitted from phones, tablets, and computers can interfere with melatonin production, a hormone responsible for sleep. It's beneficial to wind down and disconnect at least an hour before bedtime.
Stress Management
Modern life, with its relentless pace, can sometimes be a hotbed for stress. Managing this stress becomes paramount, given its direct impact on our immune health.
How Chronic Stress Can Weaken Immunity
Prolonged stress leads to elevated cortisol levels, which can suppress the immune function. Over time, this can make the body more susceptible to infections [5].
Techniques for Managing Stress
Meditation: Regular meditation can help calm the mind, reduce cortisol levels, and improve overall well-being.
Deep Breathing: Taking deep, measured breaths can instantly lower stress levels by signaling the body to relax.
Yoga: By combining physical postures with breath control and meditation, yoga offers a comprehensive approach to stress reduction.
Regular Exercise
Physical activity isn't just for building muscles or shedding pounds; it's a ticket to a more resilient immune system.
Exercise's Direct and Indirect Effects on Immune Function
Regular, moderate exercise can promote a healthy turnover of immune cells. It also aids in reducing inflammation and helps in regulating the release of stress hormones.
Suggestions for Integrating Movement into Daily Life
Stay Consistent: Aim for at least 150 minutes of moderate-intensity exercise each week. It could be brisk walking, cycling, or any activity that gets the heart rate up.
Mix It Up: Incorporate strength training, flexibility exercises, and cardio workouts to keep things engaging.
Listen to Your Body: While regularity is essential, it's equally crucial to rest when the body signals fatigue.
Hydration
The benefits of proper hydration stretch beyond quenching thirst. Water aids in every cellular function, including those of the immune system.
The Role of Water in Immune Function
Water helps in the production of lymph, a fluid that circulates white blood cells and nutrients to body tissues. A well-hydrated system ensures efficient transportation of these cells to where they're needed most.
Tips to Stay Properly Hydrated Throughout the Day
Start the Day Right: Begin with a glass of water upon waking up to kickstart hydration.
Infuse Flavor: Add slices of cucumber, lemon, or herbs to make drinking water more appealing.
Set Reminders: Use apps or alarms to remind yourself to sip regularly.
References

[1] 6 Ways to Boost Your Immune System
[2] How to boost your immune system
[3] Six Tips to Enhance Immunity
[4] Fight off the flu with immune-boosting nutrients
[5] What should I eat to boost my immunity?